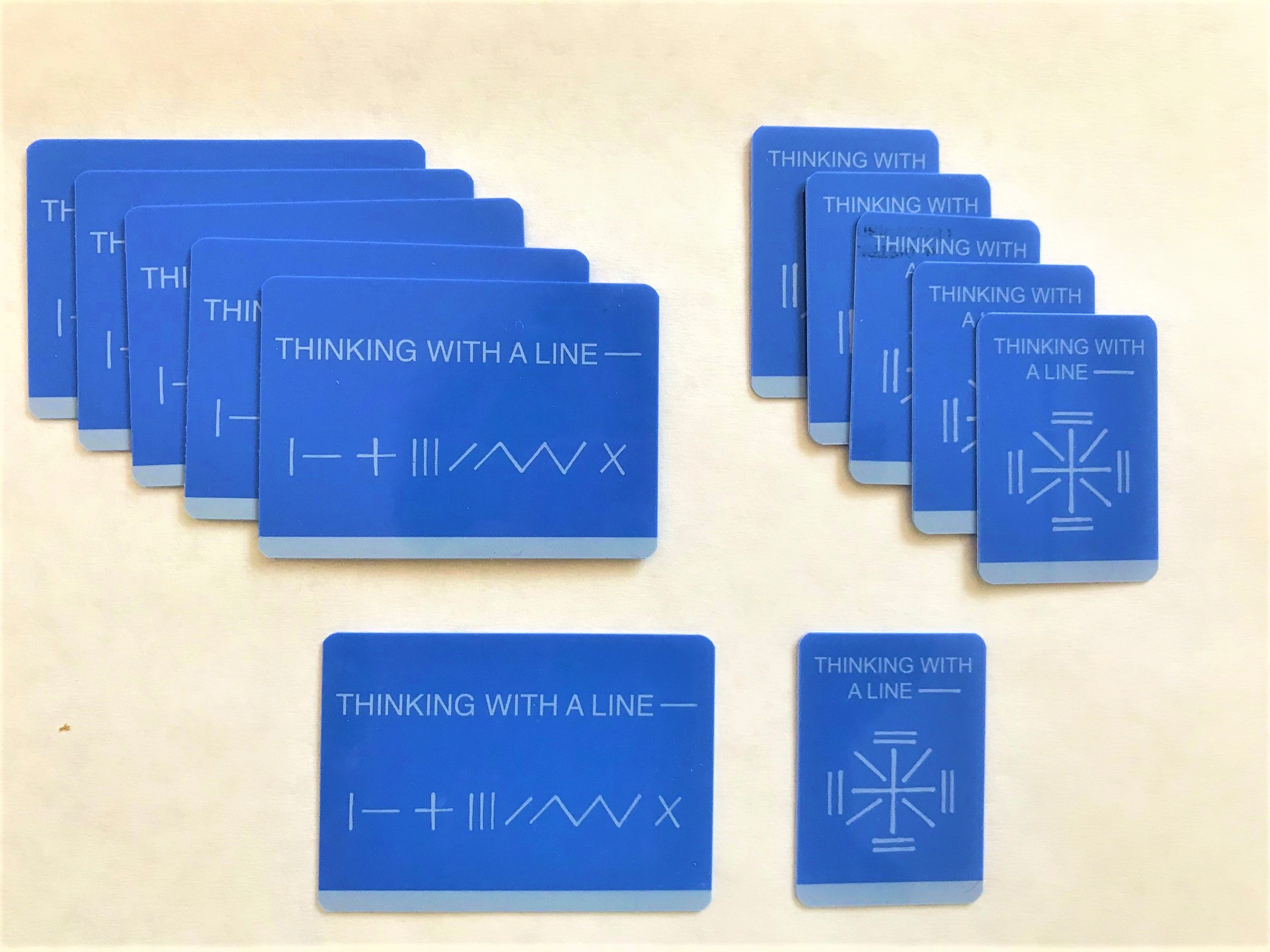 Cathy created reusable straight-line printing tools at a teacher/friend's suggestion. But, line printing tools are easy and inexpensive to make yourself – see "Supplies."  Reusable straight-line printing tools are available for use with all the explorations in Thinking & Creating with a Line. The flexible, thin plastic cards  make preparation and clean up easy. They are available in two quantities: the Starter Set includes 12 large (3 inch wide) and 12 small (1.5 inch wide) line tools and the Classroom Set with double the quantity to 25 of each.
Thinking with a Line Teacher's Guide
Cathy wrote the Teacher's Guide to Thinking with a Line when she realized that it was helpful to have lessons from the website easily available as a reference in the classroom. The book contains the lesson plans from this website, along with examples, photographs and directions for each of the lessons.
Each of the twelve chapters includes  a rationale and introduction to the lessons, key questions to promote thinking and curiosity, follow-up ideas and more.  The book outlines effective and developmentally appropriate activities that promote visual learning, motor skills, language development, and critical thinking … simultaneously fulfilling curriculum requirements for art, math, and literacy.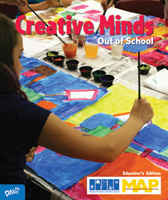 Creative Minds Out of School
Creative Minds—Out of School is an exciting program created to engage K–5 children in high-quality art exploration and artmaking in afterschool and out-of-school time settings. The program was developed in 2010 by Cathy Weisman Topal for the Massachusetts Cultural Council and the Massachusetts Afterschool Partnership. This beautifully illustrated Educator's Edition offers lesson plans for art experiences, as well as large fine art visuals and illustrated directions for each lesson, making them easy for teachers to display and for students of any age to follow. Each lesson is developed to strengthen arts-based, inquiry-based teaching skills and be easily used by educators, regardless of their previous art experience.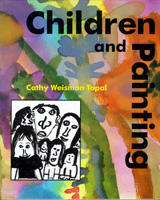 With dynamic style and a creative touch, Cathy Weisman Topal brings a new perspective to teaching painting to students of all levels. Through inspirational, open-ended activities, Children and Painting presents basic concepts and techniques in an informative, yet imaginative manner. Hundreds of colorful images illustrate basic teaching strategies and provide extraordinary examples of both student and professional works of art. Detailed step-by-step drawings and photographs demonstrate introductory warm-up exercises and provide clear instruction for sequentially developed activities and projects.  Children and Painting will draw children into the dynamic, interactive, ever changing process that is the essence of painting. Hardcover, 160 pp. with 250 full-color illustrations.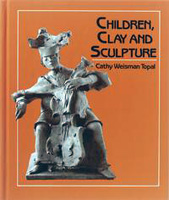 Children, Clay and Sculpture
Children, Clay and Sculpture shows you how to encourage children's artistry by guiding them through the creative process. A ball of clay, eager young hands, and a desire to explore –  is all that is necessary to begin. Guided explorations focus on hand actions – squeezing and sculpting; pressing space into clay and pulling clay out into space; exploring texture with hands and fingers; breaking clay apart to practice rolling coils, balls, and slabs; and rejoining pieces in a new way with an emphasis on creating strong, sturdy, three dimensional forms. Large size drawings plus photographs of finished sculptures spark understanding and interest.  Traditional hand-building techniques are used to create sculptural forms, reliefs, animals, heads, figures and faces. Sculpture examples represent many cultures, both historical and contemporary.
Hardcover, 128 pps.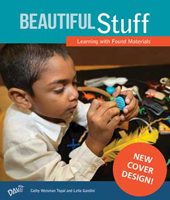 Beautiful Stuff: Learning with Found Materials
co-authored with Lella Gandini
Share the real-life journey of teachers in a school who were inspired by educational practices in Reggio Emilia, Italy to change their way of working with young children. They observed and recorded what happens when the focus is on discovery and process rather than product. Exploring found materials is an evocative experience. It stimulates the imagination, inspires storytelling and interactions between children, and serves as a bridge to drawing, collage, sculpture, and construction. In Beautiful Stuff! Learning with Found Materials you will find ideas and suggestions, delights and revelations, doubts, joys, and continual insights. Above all you will find approaches to guiding and nurturing the innate creativity of children than you can adapt to any teaching situation. Appropriate for children 4+ years and older. Paperback 107pp.
To see a short video about BSfN click here: https://youtu.be/6ZJjo0uja8g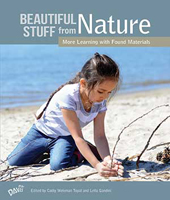 Beautiful Stuff from Nature | More Learning with Found Materials
co-edited with Lella Gandini
Children are natural explorers, open to the surprise that nature brings. Finding and exploring materials from nature offers a window into growth and change, encourages the development of a naturalists's sensibilities, and can lead to more interesting and mindful creative work in all disciplines.
To see a short video about BSfN click here: https://youtu.be/6ZJjo0uja8g
In this sequel to Beautiful Stuff! Learning with Found Materials, Cathy Topal and Lella Gandini challenged teachers throughout North America to explore their outdoor spaces and environments with children, and to follow and document – through images and quotes – their children's interests, discoveries and creations as they unfold.  As a result, each of the explorations in Beautiful Stuff from Nature – More Learning with Found Materials is unique. Each exploration features natural materials from diverse environments, and ordinary experiences made extraordinary through images, quotes and reflections that make visible the process of exploration and creation. 127 pages, softcover, grades PreK–5
Table of Contents:
Getting Started
Cultivating a Naturalist's Sensibilities
Outdoor Explorations
Your Unique Place
Bringing Nature Inside
Beautiful Stuff from Nature is also available at Broadside Books in Northampton, MA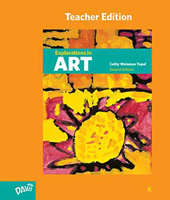 Explorations in Art – Kindergarten, Teacher Edition, 2nd Edition
Welcome to the exciting, challenging, and rewarding adventure of guiding young children in the creative process. The goal of this curriculum is to assist kindergarten teachers in offering studio art experiences that will engage their students in exploration and invention, while at the same time helping them to realize the significance of art and design in their lives. Explorations in drawing, painting, sculpting with clay, printmaking, fiber arts, collage and design, working with found and natural materials, from each of Cathy's other books are included in this curriculum. There is a Teacher's Guide, as well as a Big Book (Student Edition) of fine art images and directions for each lesson.