Observe, Listen, Record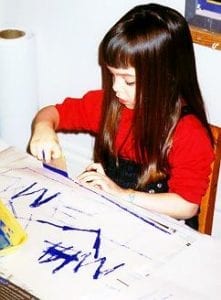 By actively standing back, observing, and recording children's words and discoveries, teachers learn that children have unique ways of thinking and working. They also see possibilities for extending explorations.
Notice the long, straight, horizontal line that Marlena is making.
Watching Marlena print her M was when I realized that line printing could also be a powerful visual literacy tool. It was also when I realized the need for a curved line tool.